Hooley: Did OSU just hire its next head coach?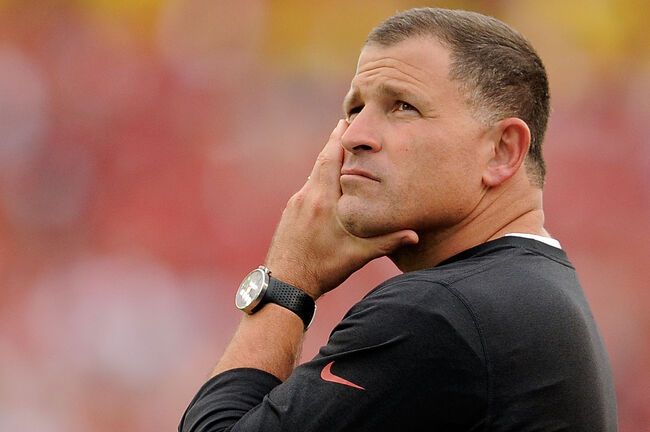 The headline from Ohio State's across-the-board salary increases for its assistant football coaches focused on OSU fully engaging in the financial arms race in college athletics.
That's true, but the hidden takeaway is that it's very possible Ohio State just named its next head coach after Urban Meyer.
Is that guy Greg Schiano, the defensive coordinator whose salary more than doubled from $700,000 to $1.5 million for 2018?
Or is that guy Ryan Day, the co-offensive coordinator who won't call plays, but will coach quarterbacks, and get paid $1 million, up from $400,000 last season?
Stand by for the answer.
Meyer holds the cards here. If he stages a July surprise some year, deciding after college football's hiring season that he either doesn't want to coach any more, or wants to hand off the program to one of his lieutenants, then Schiano or Day are well-positioned to succeed him.
It doesn't seem Day is going anywhere any time soon. He's the only assistant who received a three-year contract.
Schiano has just a one-year deal, but where is he going to go where he'll be as insulated from criticism as he is at Ohio State?
Schiano's hiring as the head coach at Tennessee blew up because crazed Volunteer fans invented a scenario to tarnish his candidacy.
Meyer and the OSU fan base were quick to defend Schiano against that smear campaign.
Is it realistic that Schiano could be hired elsewhere as a head coach and the same things people said about him at Tennessee would be ignored?
Only if the sky in your world is filled with sunshine and balloons.
But at OSU, Schiano can't be and won't be painted with that brush. Its fan base has already demonstrated its support and is therefore locked into that position.
Day's and Schiano's raises do not guarantee that either will succeed Meyer. But it does make likely that both men will stick around long enough to likely be here when Meyer contemplates how much longer he wants to do this.
And if that decision comes at an inconvenient time on the calendar, the inside lane to succeed him will be a two-man race between the OSU assistants who entered the Million Dollar Club on Wednesday.
PHOTO: GETTY IMAGES

Bruce Hooley
Want to know more about Bruce Hooley? Get their official bio, social pages & articles on 105.7 The Zone!
Read more