Senior Night shouldn't be solely for seniors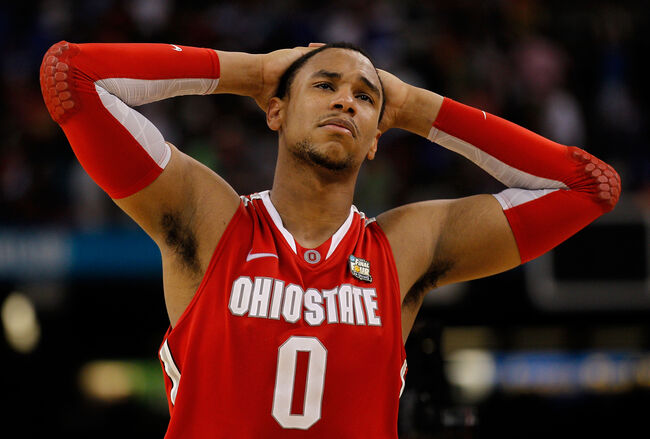 Keita Bates-Diop took his bows with the other three Ohio State seniors on Senior Night at Value City Arena, even though KBD is not a senior in eligibility.
That made his inclusion with Jae'Sean Tate, Kam Williams and Andrew Dakich noteworthy, and raised speculation that Bates-Diop must have already decided to leave OSU after this season and enter the NBA draft.
KBD says he hasn't begun to ponder that decision yet, which is hard to believe, but nevertheless the right thing to say with the regular-season finale approaching Friday night at Indiana and both the Big Ten and NCAA Tournaments to follow.
I know there are some traditionalists who recoil at honoring a player with an additional year or more remaining on his eligibility clock, but honoring KBD was the right thing to do, and not just because he's alread obtained his OSU degree.
I'd favor including soon-to-depart players among the honorees on future Senior Nights – call it, Sayonara Night, if that makes the branding more authentic – if they're likely to depart after the season to play professionally.
Yes, I know, that would chafe the NCAA and probably some loyalists who think the greatest thing that can happen to any player is to put on the scarlet and gray.
But in hindsight, would it have shaken the foundation of Value City Arena or caused the building to collapse if Evan Turner, Jared Sullinger or Greg Oden had taken a final bow after what proved to be their farewell seasons?
(If so, at least we could have rebuilt a better arena in the aftermath, but that's a different subject).
Oden received a appreciative goodbye when the 2007 NCAA runners-up were honored in Value City upon their return from Atlanta.
But Sullinger and Turner did not, even though both gave great years of service to OSU.
I'd favor thanking them for those efforts while they are still in uniform.
Who knows, maybe the outpouring of love from the fan base would play a role in convincing a future player with the impact of Sullinger or Turner to stick around another season.
That's not the reason to do it.
But if that's the result, what's the harm.
PHOTO: GETTY IMAGES

Bruce Hooley
Want to know more about Bruce Hooley? Get their official bio, social pages & articles on 105.7 The Zone!
Read more