Bates-Diop, Tate let Ohio State down in OSU loss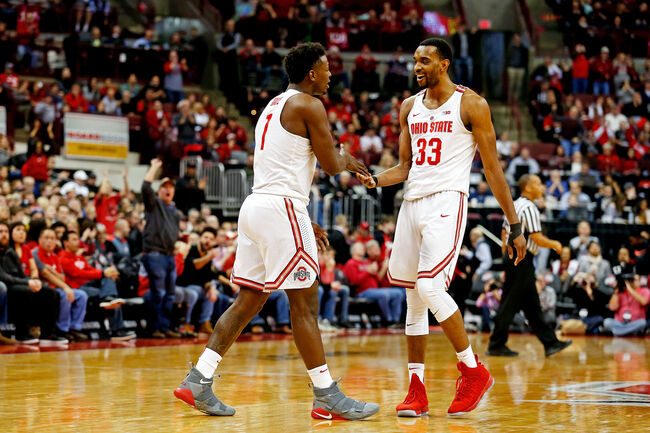 I'm glad I had tickets to a one-of-a-kind show on Friday night, because that kept me from testing the bounds of my blood pressure had I watched Ohio State's loss to Penn State in the Big Ten Tournament.
I saw the first half, which was enough.
I assumed Penn State would win by 10-to-12 points after watching the Buckeyes stumble through 20 minutes of what turned out a 69-68 loss to the Lions.
It's inexplicable how OSU, a team seeded second in the tournament, could play with that little passion and urgency against an opponent which had already inflicted two defeats on the team's resume this season.
I don't blame head coach Chris Holtmann, or his staff, for this one.
What you're seeing with OSU is a team Holtmann has squeezed every drop of potential from that's now trying to counter the adjustments opponents have made to stop what the Buckeyes succeeded with earlier.
Trouble is, the roster at Holtmann's disposal is so limited he can't realistically execute counters to the opponents' adjustments that I'm sure he'd like to make.
You try guarding Penn State's Tony Carr with a backcourt of Andrew Dakich, C.J. Jackson or Kam Williams. That's a no-win situation, particularly when Andre Wesson can't guard Carr because Jae'Sean Tate is limited to 19 minutes because of foul trouble.
You can watch a lot of basketball before you see four dumber fouls that Tate committed to put his team at a distinct personnel disadvantage.
Ohio State needs Tate to be much better in the NCAA Tournament or it's ripe to be one of the No. 5 seeds dispatched by a No. 12 in round one.
Keita Bates-Diop needs to be better, too. Sure, he had 25 points. But too often, KBD defers to teammates in situations where the Buckeyes absolutely need him to force the action.
Carr understands his responsibility to Penn State and his place in the Lions' hierarchy. He imposes his will on games in ways Bates-Diop doesn't even attempt.
Check your DVR. Twice in the final two minutes of the first half, KBD had a chance to get the ball in the key and make a move to score, or draw a foul to get to the line.
He deferred to others both times.
For Ohio State to succeed in the NCAA Tournament, it needs its best players to be its best players.
But before that can happen, the Buckeyes' best players – Bates-Diop and Tate – must attempt to be its best players.
That didn't happen with enough frequency Friday night, and that's why the Buckeyes went home early.
PHOTO: GETTY IMAGES

Bruce Hooley
Want to know more about Bruce Hooley? Get their official bio, social pages & articles on 105.7 The Zone!
Read more