Love's candor makes sense of Cavaliers' past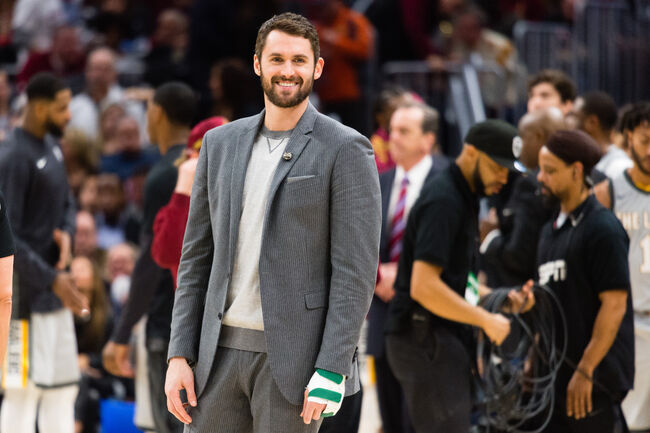 I'm a big fan of Kevin Love.
I think he's gotten a raw deal from fans and teammates ever since he became a Cleveland Cavalier.
Too often, Love gets too little credit for being an 18-and-10 guy and far too much criticism for what he isn't, a lock-down defender.
LeBron James has been chief among the violators, treating Love passive aggressively and not cutting off criticism from others when he certainly could have done so.
Now, have a I said enough nice things about Kevin Love that I can shoot straight with you on the ramifications of Love's piece Tuesday in the Players' Tribune?
Love confessed to having a panic attack early in the season, thus broaching a taboo topic among professional athletes...mental health.
I applaud Love's courage and candor, because I've known someone close to me who's struggled with depression.
It's insidious, completely misunderstood and often treatable with the proper treatment, be that counselling or medication.
But the reality of Love's disclosure is that it crystallizes a few things about the Cavs and also brings into focus an ugly reality about the future.
In hindsight, the ridiculous team meeting that targeted Love for the team's struggles in January now makes more sense.
It made no sense at the time, because Love going home sick early in a 24-point home loss to Oklahoma City didn't justify then-teammates Isaiah Thomas and Dwyane Wade coming down on him days later for leaving the team in a lurch.
Now, it might make plenty of sense.
There are few less-politically-correct places on earth than a professional locker room. The things said wouldn't pass the smell test on social media. But most often, what happens in the locker room stays in the locker room, so it wouldn't surprise me if Love lost respect among some teammates for experiencing a panic attack early in the season and then getting treatment for it.
I also wouldn't be surprised if Love left Quicken Loans Arena early in the OKC loss because he had another panic attack.
Maybe Wade and I.T. didn't know why, and not knowing why frustrated them to the point they unjustifiably attacked Love and made him a scapegoat.
I don't think it's a certainty that even if they knew the reason, they would have respected that reason, rather than dismissing it as Love being soft.
That's speculation, of course, but it's a logical possibility.
Here's something that's not just a logical possibility, but is instead cold, hard reality.
Now that Love has opened up about his struggles, it devalues his worth in any future trade, should the Cavaliers get to that point with him.
Every team in the league would wonder whether it can count on Love in a big game to handle the mental duress.
Granted, it's not pretty. And it's certainly not fair.
But while teams will say the right things about being supportive of Love and others who might come forward with similar struggles, the reality is that executives must consider that aspect of any player as they evaluate his worth to their franchise.
PHOTO: GETTY IMAGES

Bruce Hooley
Want to know more about Bruce Hooley? Get their official bio, social pages & articles on 105.7 The Zone!
Read more