Snyder knows his future better than you do yours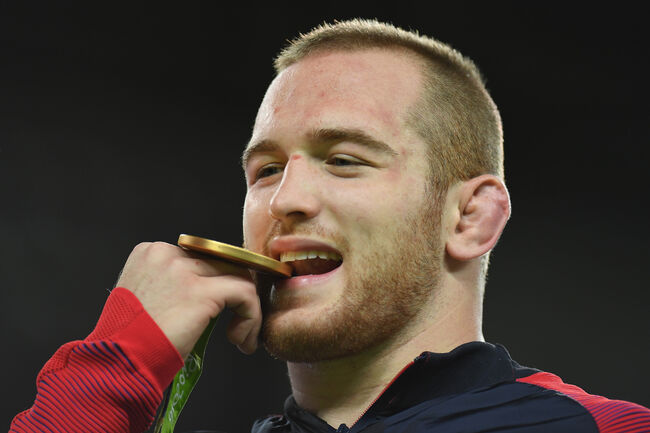 What are your plans for the summer of 2032?
You don't know?
How about for the summer of 2028, or even the summer of 2024?
You're not sure?
Ohio State senior Kyle Snyder doesn't think like you.
Or me.
While I can't be certain what I'll be doing even a year from now, Snyder's path is well-planned beyond the NCAA Wrestling Championships next weekend at Quicken Loans Arena in Cleveland.
"I'd like to compete in four more Olympic Games and be a five-time gold medalist," Snyder told 105.7 The Zone on Thursday morning,
You can listen to the entire interview here.
When you do, you'll hear an extremely focused, driven young man whose resume already reads:
# Youngest Olympic wrestling champion in history.
But Snyder is not done.
Far from it.
"I want to be the most dominant and greatest wrestler there ever was," he said. "I want to compete as long as my body physically can."
That's the unknown, of course, because the physical demands of wrestling are as daunting as they are unpredictable.
"In all of this, I understand, my Lord is in control," said Snyder, whose Twitter page includes a pinned Tweet with a Bible verse from 2 Corinthians 3:5. "Whatever He wills will happen....My main purpose is to glorify Him."
Snyder could tear a muscle tomorrow or suffer some sort of debilitating injury. Although, it might take more than that to deter him, considering he won the NCAA heavyweight championship last year after injuring a rib in the quarterfinals.
His biggest challenge -- in more ways than one -- next weekend in Cleveland will likely come from Michigan's Adam Coon, who's 6-foot-6 and outweighs Snyder by some 60 pounds.
Coon defeated Snyder once this season, in what was Snyder's only loss of his last three seasons in an NCAA match.
Snyder avenged that defeat to win the Big Ten title in his weight class, and few would bet against the two meeting again in their third match this season at The Q.
After that, Snyder will have a busy summer of international travel as he competes around the world in preparation for what he hopes will be a second gold medal at the 2020 Summer Games in Tokyo.
In 2024, the Summer Olympics will be in Paris.
In 2028, Snyder hopes to win his fourth Olympic gold medal in Los Angeles.
No one has ever won four Olympic golds in wrestling, although Al Oerter (discus), Carl Lewis (long jump) and Michael Phelps (200-meter individual medley) have won four gold medals in the same sport in consecutive Olympics.
For Snyder, a record fifth gold medal would come in 2032 just before he turns 36 years of age.
Where will those Olympics be?
Even the International Olympic Committee hasn't gotten around to that matter yet.
Where ever it is, Kyle Snyder is working to get there every day.
PHOTO: GETTY IMAGES

Bruce Hooley
Want to know more about Bruce Hooley? Get their official bio, social pages & articles on 105.7 The Zone!
Read more