Beckham to Browns? It could happen, but should it?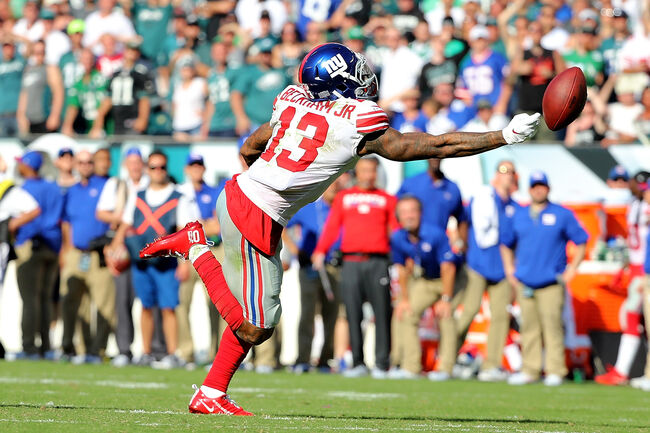 Whatever headlines the Cleveland Browns have already made in free agency and via trades, whatever headlines they might make with the No. 1 and No. 4 overall picks in the NFL draft, none would compare to the fallout from a trade for New York Giants wide receiving diva Odell Beckham Jr.
OBJ is one of the top playmakers in the league, but he's also the highest-maintenance guy at the NFL's highest-maintenance position.
No one should doubt Beckham's ability on the field. But keeping him happy is a constant struggle, which is why the Giants are sending clear signals that they'd listen to offers for a game-breaking talent who's entering the final year of his rookie contract.
The Browns have $60 million in available cap space, more than any other team, and second-round draft choices at No. 33, No.35 and No. 64 overall to pair with their two first-round selections if they're inclined to make a play for Beckham.
Just imagine a wide receiver corp of OBJ, Jarvis Landry and Josh Gordon, along with promising rookie tight end David Njoku.
That's a lot of talent.
And a lot of drama.
The Real Housewives of L.A. would have nothing on the posing and preening coming out of the receiver room at 76 Lou Groza Blvd.
The great thing about Beckham is he's still on his rookie deal, and even though his fifth and final season of that contract jumps to just over $8 million, that's still half of what Antonio Brown, Mike Evans or other comparable receivers will make in 2018.
Beckham could, theoretically, be franchise-tagged in 2019 and 2020 if the Browns failed to come to terms with hin on a long-term deal.
Of course, Beckham is saying he won't play this season at all without a new contract from someone.
The No. 4 pick feels like too high a price to pay for Beckham, if only because he's likely to be content in Cleveland only if the Browns pay him $20 million annually and $60 million guaranteed.
That's not going to happen, even with the lobbying on Twitter from Landry, who was Beckham's college teammate at LSU.
If the Browns want an unvarnished evaluation of Beckham, they can surely get it from his position coach the past two years in New York, Adam Henry, who now fills that role on Hue Jackson's staff.
Browns fans would likely embrace Beckham's arrival because it's flashy and fosters hope for the future, but it's questionable whether they'd love it if it came after a trade-down with Buffalo from No. 4.
The Bills could dangle their No. 12 and No. 22 picks in Round One to jump up and take a quarterback.
The Browns could offer one of those choices, and maybe a later-round selection, too, to the Giants for Beckham.
That would give Cleveland's franchise QB taken No. 1 an assortment of weapons to play with.
And an assortment of headaches to deal with, given the drama surrounding Beckham, Landry and Gordon throughout their careers.
PHOTO: GETTY IMAGES

Bruce Hooley
Want to know more about Bruce Hooley? Get their official bio, social pages & articles on 105.7 The Zone!
Read more