The right OSU QB choice: Pick one, then be done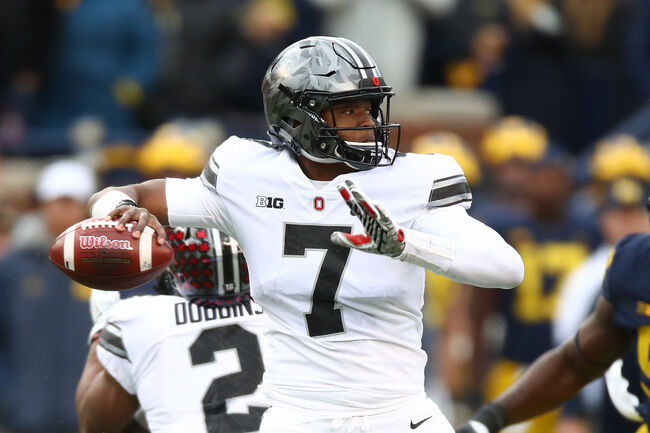 The question Urban Meyer should be asking himself isn't the question most Ohio State fans think he's struggling to answer.
Meyer said after the OSU spring game on Saturday that he'll crunch the numbers, watch the tape and evaluate everything before he makes a determination on whether sophomore Dwyane Haskins, junior Joe Burrow or freshman Tate Martell is the leader at quarterback entering the summer.
But maybe Meyer should answer the question about which quarterback he'll give the inside lane toward starting in the fall by asking himself something else.
Like:
Will further competition at quarterback clarify or muddle the decision?
Or:
Can we afford to split practice reps between two quarterback candidates who continue to prove they're both capable of winning?
The answer to both those questions, I believe, is a resounding, No.
So, it really doesn't matter as much which quarterback Meyer chooses as it does that he choose one and do it quickly and irrevocably.
I don't think there's a big gap, and perhaps no gap at all, between how Ohio State will finish the 2018 season if either Burrow or Haskins is OSU's starter.
But there's a bigger risk of causing the Buckeyes to fall short of their potential by continuing to waffle on the Burrow-or-Haskins choice until fall, or throughout the fall.
We saw that in 2015, when the intoxicating option of Cardale Jones collided with Meyer's deep loyalty to J.T. Barrett and the result was arguably his most-talented team at OSU falling short of reaching even the College Football Playoff.
The 2018 team Meyer will coach lacks the same amount of proven talent, simply because it didn't win the national championship last season and most of the holdovers in 2015 were players who carried OSU to the title the season before.
Haskins and Burrow both possess NFL ability, but neither player will have the best chance to refine that ability if they continue to stroll the runway in the swimsuit competition of Urban Meyer's mind.
Both these guys deserve the spotlight...one here, and one, inevitably, somewhere else.
Pick your favorite between Haskins and Burrow, then ask yourself how many Big Ten starting quarterbacks returning for 2018 would you start ahead of the guy you didn't select.
OK, there's one.
Clayton Thorson of Northwestern?
Maybe, if his rehab from an ACL injury in the Music City bowl goes well.
Uh, no thanks.
I'll take Burrow or Haskins over the Jamie Moyer of Madison.
I wouldn't consider trading any other Big Ten returning starter at QB for Burrow or Haskins, neither of whom has started their first game yet.
Meyer can continue his quarterback competition into the fall, but all that's going to accomplish is cause OSU's offensive players to pick a favorite.
I don't believe for a second that the Buckeyes' wide receivers haven't already done that, even though I don't presume to know which QB the receivers favor.
Maybe they're split on the matter, with some preferring Haskins and others preferring Burrow.
If so, is that a good thing, or a bad thing?
You don't know and I don't know.
So what do we know?
We know that, based on history, the longer Burrow and Haskins compete, the more it's going to become evident that the difference between them is indiscernable.
Haskins throws it better.
OK, so what?
Burrow runs it better.
But Haskins can run, too.
Yeah, and Burrow can throw it just fine.
Ohio State will be a different team led by Haskins than it will be if led by Burrow.
But different doesn't necessarily mean better.
What's the best decision?
I don't know.
I just know there's only one wrong decision.
And that is, indecision.
PHOTO: GETTY IMAGES

Bruce Hooley
Want to know more about Bruce Hooley? Get their official bio, social pages & articles on 105.7 The Zone!
Read more