7 reasons Denzel Ward is a risky pick for Browns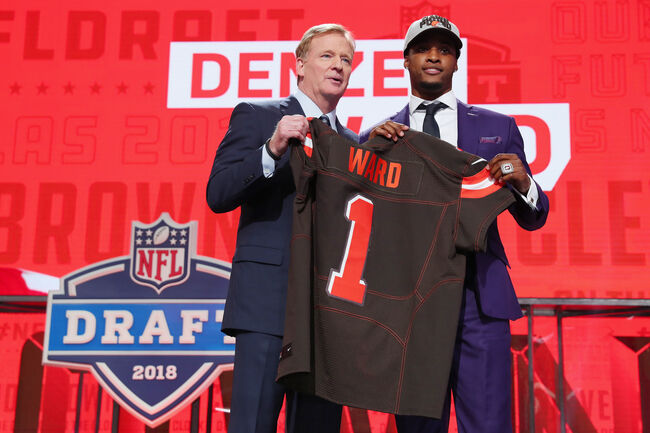 I've pounded the table hard and long over the Cleveland Browns' failure to draft Ohio State players.
Year after year, regime after regime, failed rebuild after failed rebuild, the Browns have tried just about everything to get better but a strategy that's worked for virtually every NFL team but them:
Draft Buckeyes.
The Browns went nine years and 76 selections between taking Brian Robiskie in Round 2 in 2009 and taking Denzel Ward No. 4 overall on Thursday night.
In recent years, the Browns could have drafted Ezekiel Elliott, Joey Bosa, Michael Thomas, Marshawn Lattimore, Malik Hooker, Pat Elflein, Taylor Decker and other Buckeyes who are studs on their respective NFL teams.
Instead, the Browns passed, and passed and passed again and again and again, and remained a laughingstock.
Only three other NFL teams joined the Browns in failing to pick an Ohio State player between 2010-2017, when OSU had 11 first-round selections, nine in the second round and 48 picks overall.
But the Browns finally shelved their, All Buckeyes Left Behind, policy with Ward's selection at No. 4, when they could have picked North Carolina State pass-rusher Bradley Chubb.
And, wouldn't you know it, when Cleveland finally got around to taking an OSU player, they should have taken the other guy.
Here are seven reasons I'm nervous about Ward's selection that high, and why I think Chubb would have made more sense:
Reason 1
The Browns said they selected Ward over Chubb because defensive coordinator Gregg Williams needs a press-coverage cornerback to run his defense.
Uh, how many of you expect Williams to be the Browns defensive coordinator beyond this season? I sure don't.
Williams' system hasn't exactly worked, and if Hue Jackson gets bounced after a third straight disappointing season, Wiliams is likely to be jettisoned with him.
The Browns let GM John Dorsey pick his preferred quarterback, not Jackson.
So why let a defensive coordinator pick his player, when that DC probably won't be around long?
Reason 2
Ward had a great junior year at Ohio State and emerged as the best coverage cornerback in the draft.
But how sure can we be that his talents will translate to the NFL?
Lattimore was the NFL Defensive Rookie of the Year, and Hooker was outstanding as a rookie in Indianapolis.
But Ward is the fifth OSU DB taken in Round One over the last three years, and the other two besides Lattimore and Hooker have been disappointments.
Gareon Conley contributed almost nothing to the Raiders last year because of injury, and Eli Apple has been a disaster in two years in New York.
Just because you're great as a Buckeye cornerback doesn't mean you'll be a great NFL corner.
Reason 3
That 50-50 hit rate on OSU cornerbacks could be a function of the talent around prospects in Columbus.
Ward no doubt benefitted from a great pass rush, with NFL picks Sam Hubbard, Tyquan Lewis and Jalen Holmes going in the draft.
Nick Bosa and Dremont Jones will go in the draft next year, and Chase Young the year after that.
It's easier to look like a great cover corner when you don't have to cover long in college.
Reason 4
Who played surrounded by more college talent, Ward or Chubb?
Two defensive line teammates of Chubb got picked in Round 3.
Those two teammates were sandwiched between selections of Lewis and Hubbard, and also OSU linebacker Jerome Baker.
Throw in Bosa, who'll likely go Top 5 next year, and it's inarguable Ward played with better talent than Chubb and had less attention paid to him individually by opponents than Chubb.
That makes me more comfortable with Chubb's ability to deliver on NFL potential than Ward.
Reason 5
Rookies often struggle in acclimating to the league.
If that happens to both Ward and Chubb, which one is positioned to be the better player, the more contributing player, despite their struggles?
I'll take Chubb in that scenario, because he'll be insulated by other pass rushers around him, like Myles Garrett and Emmanuel Ogbah.
Who's going to be around Ward if he struggles one-on-one in coverage against Antonio Brown and A.J. Green?
The only guy around Ward will be an official, holding his arms vertically overhead.
Reason 6
How sure are we Denzel Ward's college success will translate to the NFL? Did he play against, and distinguish himself against, a lot of great passing teams in his only year as a starter at OSU?
The season-opener against Indiana was a fail.
Baker Mayfield and Oklahoma had their way with the OSU secondary.
The Buckeyes played well against Sam Darnold and USC in the Cotton Bowl, but Ward opted not to play in that game to avoid injury.
Army? UNLV? Rutgers?
Ward looked good against Maryland and first-round wide receiver D.J. Moore, but could that be because Maryland was down to its third-team quarterback and threw only 13 passes in that 63-14 rout.
Let's hope not.
Penn State threw for 192 yards against OSU, but most of that came to its tight end and running backs. Then again, Trace McSorley had virtually no time to throw downfield because of his overmatched offensive line.
Michigan had players running open frequently, but John O'Korn's ineptitude allowed the OSU secondary to get away with those mistakes.
Reason 7
Cornerbacks often don't age well in the NFL, compared to pass rushers.
Guys like Terrell Suggs, DeMarcus Ware, Dwight Freeney, Michael Strahan and others remain pass-rushing forces into their mid-to-late 30s.
Even at their peak, dominant cornerbacks like Darrelle Revis, Richard Sherman and Joe Haden are trending down or over the hill by age 30.
The Seahawks let Sherman walk at that age.
Revis made his last Pro Bowl at that age.
The Browns released Haden at 28.
There are exceptions, like Charles Woodson and Terrence Newman, but many more pass-rushers play productively into their 30s than coverage cornerbacks.
Conclusion:
Ward will likely be a very good NFL cornerback, but his college production and resume as a starter don't guarantee he will be able to effect a game as much as Chubb. History shows Ward won't be elite at his position as long as Chubb can be at his.
That's why Chubb would have been a wiser choice at No. 4 than Ward.
And if Ward weren't bathed in the favor of ending the Browns' ridiculous aversion to Ohio State players over the years, Cleveland fans would be much more discerning in their evaluation of his selection at No. 4 overall.
PHOTO: GETTY IMAGES

Bruce Hooley
Want to know more about Bruce Hooley? Get their official bio, social pages & articles on 105.7 The Zone!
Read more