Durant is great, when his delicate mind allows it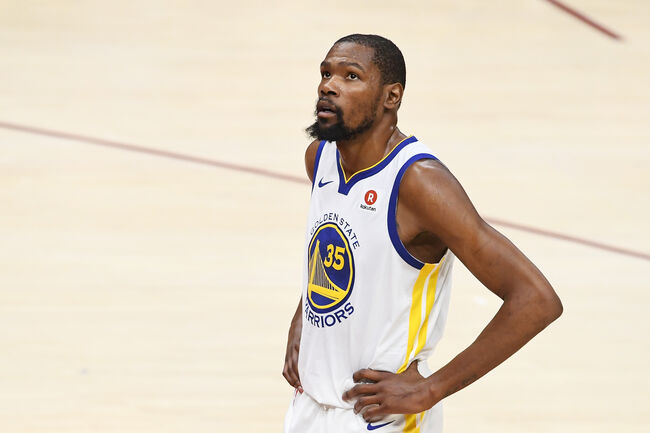 The only thing unknown about the NBA Finals is when the Golden State Warriors will win it.
It could be Friday, when Game 4 will air at 9 p.m. on 105.7 The Zone.
It could be Monday, if the Warriors decide they'd prefer to celebrate with their home fans at Oracle Arena in Oakland.
The result of this Finals was that forgone before it began, and it was even more inevitable after the referees stole Game 1 from the Cavs.
Similiarly, the Warriors can flip a coin over which player wins NBA Finals MVP.
Steph Curry has never won it, so maybe Kevin Durant agrees to take a back seat to America's Teddy Bear on Friday so Steph can munch on his binky and erase the one glaring gap on his career resume by claiming Finals MVP.
I'm betting no previous Finals MVP has shot 3-of-16 overall or 1-of-10 from 3-point range, like Curry did Wednesday night in Golden State's 110-102 win at Cleveland.
But that's how good the Warriors are. They can withstand Curry and Klay Thompson combining for just 21 points, because Durant is capable of going off for 43.
That Game 3 performance could win Durant his second straight Finals MVP award, assuming he doesn't tank in Game 4 and beyond.
He's capable, of course, because Durant was MIA at crunch time in the Warriors' losses to Houston in Games 4 and 5 of the Western Conference Finals.
Durant shot 9-of-24 and went 1-for-5 in the fourth quarter in Game 4.
He followed that with an 8-of-22 eyesore, going 0-for-4 in the fourth quarter, of Golden State's Game 5 loss.
Then Chris Paul jacked up his hamstring and the Warriors benefited once again from bad injury luck by their opponents at the most inopportune time.
In Game 1 against the Cavs, Durant didn't attempt a shot in overtime. And his failed box-out on the free throw line gave the Cavs a chance to win, until J.R. Smith proved himself a bigger idiot than Durant is a ghost under pressure.
None of that will stick to Durant, because nothing does.
He helped lead Oklahoma City to the NBA Finals at age 23. Among the other players on that roster were Russell Westbrook, James Harden, Serge Ibaka, Thabo Sefolosha, Reggie Jackson and Derek Fisher.
That roster portended multiple NBA titles to come, with Durant leading the way.
Except, Kevin Durant is not a leader. He's a follower. He has lead-dog ability with a hitchhiker's mindset.
He'd rather catch a ride than drive the bus.
That's why he bailed on the Thunder after blowing a 3-1 lead against Golden State in the 2016 Western Conference Finals.
In Game 6 of that series, at OKC, the Thunder held a 7-point lead with less than six minutes left . Durant shot 1-of-7 in the fourth quarter and turned it over twice.
Sound familiar?
It did to the the Oklahoma City newspaper of record.
Durant entered free agency after the Thunder blew that 3-1 lead, and recently told The Athletic how impressed he was by the way the Warriors' contingent arrived to court him.
"Everybody was in the same car. Joe, Steve, Bob, Draymond, Klay, Steph, Andre, Kirk Lacob. I was like, man, this already looks like a family. I want to be a part of it. I was excited about that."
Everybody arriving in the same car sold Durant on the Warriors' being a family?
Note to the future Mrs. Kevin Durant: If you ever cheat on him with another guy, flowers and candy will convince him you're really sorry.
Yes, he's that easy.
But Durant's gullibility about the Warriors' arriving en masse wasn't the most revealing part of his interview with The Athletic.
Listen to what he needed to hear from Golden State, and other teams that sought his services, during his summer of free agency in 2016:
"At that time in my career, I didn't know how other people felt about my game. And I knew that I was pretty damn good and I knew I worked extremely hard, but I needed that validation from my peers and teams and GMs, people that are really into the game, to really help me feel good about myself and help me feel confident and let me know that what I was doing was working.
So when they all came, and they all put stuff to the side to come to the meeting, I was like, man, this is amazing. Best team in the league, some of the best players, most accomplished players want me on their team and want what I do, what I bring to the table. It was pretty cool, you know what I'm saying?"
At that juncture of his career, after nine years in the league, Kevin Durant had already been:
# NBA MVP
# All-Star Game MVP
# All-NBA first-team four times
# All-NBA second-team once.
# NBA scoring champion four times.
# NBA Rookie of the Year
# 2012 Olympic gold medalist
# USA Basketball Male Athlete-of-the-Year.
And after all that, Kevin Durant needed "validation from my peers...to help me feel good about myself and help me feel confident."
That tells you everything you need to know about the gelatin spine of Kevin Durant.
He will win his second NBA title within the next week.
He might win his second Finals MVP award, too.
But he is also, by his own account, a scared rabbit who finds comfort cowering behind the great players around him.
Only then, and only occasionally during a seven-game series, will Durant then demonstrate the greatness of his own.
PHOTO: GETTY IMAGES

Bruce Hooley
Want to know more about Bruce Hooley? Get their official bio, social pages & articles on 105.7 The Zone!
Read more