I can't believe Shelley Meyer didn't tell Urban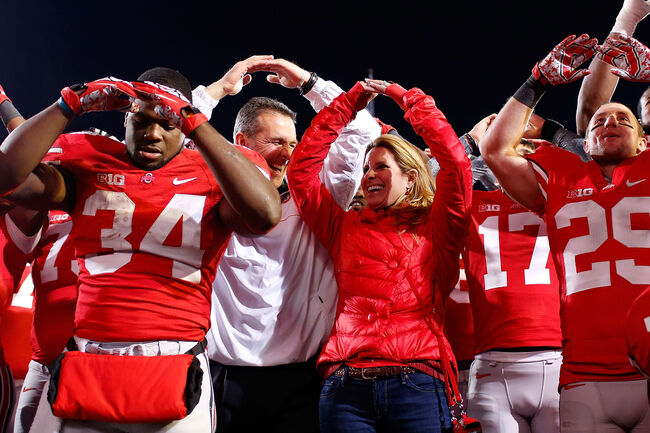 I know Shelley Meyer, the wife of Ohio State coach Urban Meyer, only casually.
She graciously gave me the time for a sit-down, half-hour interview to profile her for Spectrum Sports Channel.
We exchange small-talk pleasantries when we pass occasionally in the health club.
Over the last three years, there have been only a few fleeting conversations, mostly to extend congratulations upon the birth of her grandson and the engagement and marriage of her daughters.
So I don't purport to know Shelley Meyer well.
But I know her well enough to confidently say that I do not believe Shelley Meyer has such little compassion that she would keep secret from her husband the knowledge that one of his assistant coaches physically abused his wife.
That's what you're asking me to believe if you're holding onto the defense that Urban Meyer didn't know about Zach Smith's apparent abuse of his former wife, Courtney Smith.
The Facebook report from former ESPN reporter, Brett McMurphy, show photos and text messages Courtney Smith apparently shared with Shelly Meyer throughout a marriage and divorce laden with instances of domestic violence and intimidation by Zach Smith.
Why is McMurphy's report on Facebook? Because he was among a host of reporters and broadcasters -- Ed Werder, Andy Katz, Jay Crawford, etc. -- let go in a cost-cutting purge by ESPN last summer.
Brett McMurphy is a great, not good, a great reporter. He has a job lined up with another national entity that will be announced once his non-compete with ESPN expires and he receives the final dollar due him from his ESPN contract.
So McMurphy's report should not be dismissed because of the platform on which it was shared.
Ohio State's most sensible course of action is to place Meyer on administrative leave until it employs a independent forensic investigation of all the text messages and emails between Meyer, Zach Smith and other members of the coaching staff.
That will either prove, or disprove, Meyer's contention from last week that he knew nothing of Smith's alleged domestic violence against Courtney Smith in 2015.
Here is what Meyer said about that matter on July 24 at the Big Ten Kickoff Luncheon:
"There was nothing. I don't know who creates a story like that...I can't say it didn't happen because I wasn't there. I was never told about anything. Never anything came to light. I never had a conversation about it. So I know nothing about that.
"The first I heard about it was last night. I asked people back at the office to call and see what happened, and they came back and said they know nothing about it."
The optics of those words are horrible for Meyer and Ohio State.
If McMurphy's report presents authentic texts and photos from Courtney Smith to Shelley Meyer, and from Courtney Smith to the wife of Meyer's chief of staff, Brian Voltolini, then it is very likely Urban Meyer lied repeatedly about his lack of knowledge about Smith's domestic violence.
In this era of increased sensitivity toward that issue, in the midst of a Me Too Movement seeking to hold men in positions of power who commit or enable domestic violence or sexual abuse, it is an unenviable position for Meyer and Ohio State to be in.
To defend Meyer, and to continue to employ him, OSU would be going to bat for a coach who retained an assistant on staff for three years after a second domestic violence incident by Smith came to Meyer's attention.
That would expose OSU to millions in monetary damages in a lawsuit Courtney Smith could file against Meyer, his wife and the school for violations of Title IX, a federal civil rights law that compels any university employee to report knowledge of domestic violence by another university employee.
So the stakes are enormous for all involved, and the legal risk for Ohio State is much greater than it was amid the Tattoo Gate scandal that led to Jim Tressel's firing in 2011 for lying to the NCAA and attempting to cover it.
PHOTO: GETTY IMAGES

Bruce Hooley
Want to know more about Bruce Hooley? Get their official bio, social pages & articles on 105.7 The Zone!
Read more