Meyer lied in Chicago, and he hasn't stopped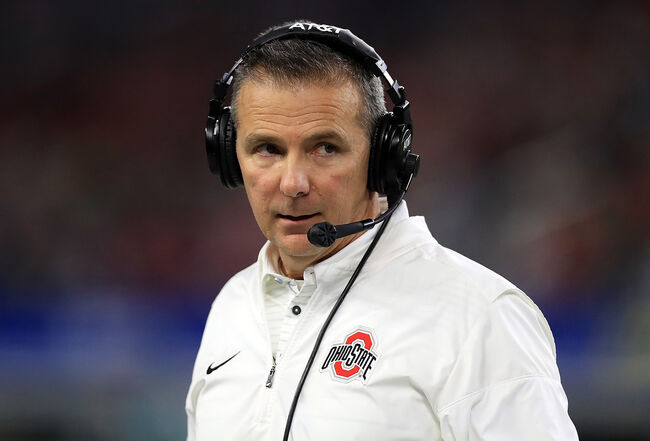 Urban Meyer's social media apology for the lies he repeatedly told about a fired assistant coach's brush with domestic violence might have landed more believably Friday had Meyer not explained his actions with another lie just as fanciful.
"My intention was not to say anything inaccurate or misleading," Meyer wrote. "However, I was not adequately prepared to discuss these sensitive personnel issues with the media, and I apologize for the way I handled those questions."
Not adequately prepared?
Urban Meyer?
The man who has won 73 games in six seasons at Ohio State, and all three national championship games in which he has coached during his career, is rarely, if ever, unprepared.
No, what drove Meyer to the brink of precipitating his own firing by needlessly backing himself into a corner with lies told consistently and firmly at least nine times in three separate press conferences over a single afternoon was more likely an overabundance of forethought and planning.
There have probably been many press conferences during Meyer's 16 seasons as a head coach at Bowling Green, Utah, Florida and OSU where he hasn't been exactly sure of the initial question he would face.
But every Meyer media availability in Chicago carried the certainty of a first question related to the firing of his wide receivers coach, Zach Smith, the night before.
Meyer had one entire evening to confer with OSU crisis management experts and ponder how he would handle those questions about Smith's dismissal.
Actually, Meyer likely had even longer to prepare, given that Smith's firing had been a possibility since a report surfaced 11 hours before his firing that detailed his domestic violence issues in the past.
But Meyer's statement presents a scenario where he was caught off guard that anyone would ask about him about firing Smith, as if no one would be remotely interested in Meyer firing the grandson of his mentor, former OSU coach Earle Bruce.
Meyer's supporters will, of course, defend this ludicrous excuse, just as they would laugh uproariously if Nick Saban, Jim Harbaugh, Mark Dantonio or any coach perceived as a threat to OSU's on-field dominance positioned a similar fantasy as truth.
That's because Meyer is a winning machine.
He's simply the best coach Ohio State has ever had.
But he might not be much longer because of his own purposeful decision to lie repeatedly about what he knew of a domestic violence incident involving Smith in 2015.
That was, of course, the first question to Meyer in Chicago.
"There was nothing," Meyer said. "I don't know who creates a story like that."
For the better part of six hours, in front of a mass media gathering, again in a session with print reporters, and again in front of TV cameras, Meyer stuck to that outright denial and dismissive tone.
Here's the exchange between Doug Lesmeresis of Cleveland.com and Meyer:
Lesmerises: "Are you saying you don't know anything about that (2015 incident) or are you saying that never happened?"
Meyer shook his head as Lesmerises question began, as if to say he indeed knew nothing about the 2015 incident. And then he said this:
Meyer: "I can't say it didn't happen, because I wasn't there. I was never told about anything. Nothing ever came to light. I never had any conversation about it. So I know nothing about it."
Five sentences...three outright, bald-faced lies.
A follow-up question from Lesmerises brought this from Meyer:
"The first I heard (about the 2015 incident) was last night."
Another lie.
Meyer then augmented his story by saying that, the night before, he had called people in his office back in Columbus for details on the 2015 incident -- one we know now he fully knew every detail of -- and he told Lesmerises, "they came back and said they know nothing about it."
You can watch the video of that exchange and make your own judgment about Meyer's body language and whether he seemed adequately prepared for Lesmerises' questions.
After that print media session, later in the afternoon, Meyer went to another media session for television reporters and answered a question about Smith's 2015 incident by saying, "I was never told about anything."
Yet another square-jawed, steely-eyed, even-toned lie.
Only time will reveal the exact reason Meyer chose the absolute worst possible way to handle questions he knew were coming. Most probably, it was his belief his lies would never be exposed, because both he and Ohio State and every big-time college football program are very good at shielding themselves from scrutiny.
If all this leads to Meyer's firing, it will be a mammoth misfortune, prematurely ending a career that could leave him looking down on every other coach in college football as the greatest ever in his profession.
It will damage Meyer's considerable philanthropic impact in Columbus and stop his uncanny influence helping players realize their NFL dreams.
And if Meyer is fired, it will be entirely of his own doing, because he had the truth on his side and simply refused to tell it.
Meyer's own social media mea culpa now contends he reported the 2015 Smith domestic violence matter to his superiors.
So why not admit that when questioned in Chicago?
Why not say, "I knew about the 2015 incident and I reported it to my superiors. I told Zach if anything ever came to light about that and it reflected on our program, he would be dismissed. That happened this week, and so we had to part ways."
Would that revelation have brought the mighty Ohio State football program to its knees?
Would it have damaged Urban Meyer in any way that would have exposed him to a possible firing?
No and no.
So why did Meyer not tell the truth?
The answer lies somewhere between ego and arrogance, or more probably at their intersection.
Meyer, like many elite coaches, doesn't like being questioned about things in his program on any terms but his own.
It wasn't that he came to Chicago "not adequately prepared." It's far more likely Meyer had pondered the questions he would receive for the better part of 16 hours and was exceedingly prepared.
And probably exceedingly ticked off he'd have to shine some light on the dirty laundry in his program.
That's why someone puts forth a false narrative and sticks to it resolutely while given repeated chances to tell the truth or correct his earlier lies throughout the day.
Meyer is rarely thrust into such situations, and it's hard to envision how he could have handled it more deplorably.
While sycophants will excuse it as simply lying to the media -- a stupid defense, given reporters are the conduit to the general public -- there is an enormous difference between concealing which player will start at quarterback, or whether a tackle's ankle injury has fully healed and repeatedly denying, and thus trivializing, domestic violence allegations against a staff member.
If Meyer doesn't understand the difference, then his oft-stated core value of, "Treat women with respect," rings as hollow as the only other core value he lists above that one, "Honesty."
Such hubris is not exclusive to Meyer, of course.
It is, sadly, quite common in an era where he and others who excel in his profession are the tail that wags the administrative dog at universities which purport to prioritize academics over athletics.
That is as farcical a lie as the whoppers Meyer spouted in Chicago, lies he could have retracted at any point that day, or in the intervening seven days before he was placed on administrative leave on Wednesday after additional reports exposed him.
"The power of what I say and how I say it, especially regarding sensitive and serious domestic issues, has never been more evident than now," Meyer wrote in his apology on Friday. "My words, whether in a reply to a reporter's question or in addressing a personnel issue, must be clear, compassionate and most of all, completely accurate."
Finally, he got it right.
Too bad it took a week, and the distinct possibility of his firing, to get there.
Meyer is not only a representative of Ohio State, he is the most high-profile representative of the school.
The committee charged with deliberating his fate must decide whether it can recommend to Ohio State's Board of Trustees that it should retain Meyer as head coach.
He would have a better chance of continuing if Meyer's social media apology on Friday had included a more liberal dose of humility, along the lines of: "I made an egregious mistake with the lies I told. I'm ashamed of and extremely sorry for the example I set for my players, and the way I let down my university as its representative. There is no excuse for what I said and how I said it."
Maybe Meyer will come closer to that when he meets with the OSU investigative committee.
His statement said he will, "cooperate fully with them."
And, presumably, tell the truth.
Provided he's adequately prepared.
PHOTO: GETTY IMAGES

Bruce Hooley
Want to know more about Bruce Hooley? Get their official bio, social pages & articles on 105.7 The Zone!
Read more